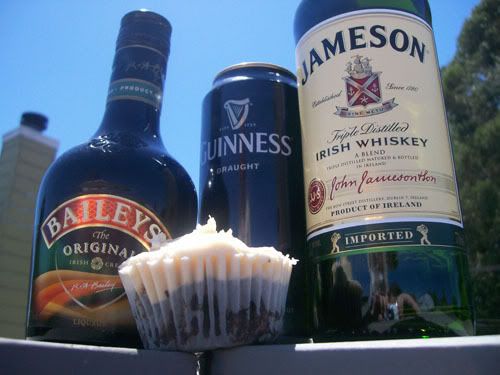 I thought this  was pretty cool. 
What we have here is a irish car bomb cupcake. Are fucking kidding me? I can get shit faced and stuff my fatty mouth at the same time?  Well count me the fuck in.  This thing looks absolutely delightful. 
Wait wait. I have the recipe as well. 
Ingredients 

Cupcake
1 cup Guinness
1 stick, plus 1 tbs unsalted butter
3/4 cup unsweetened cocoa
2 cups dark brown sugar
3/4 cup sour cream
2 eggs
1 tbs vanilla extract
2 cups flour
2 1/2 tsp baking soda
Frosting
1/3 C butter
1 T milk
4 C powdered sugar***
4 T Bailey's Irish Cream***
1 1/2 T Jameson Whiskey***

Directions
Preheat the oven to 350; line a muffin tin with cupcake liners.
Combine the Guinness and the butter, chopped into 1-inch chunks, in a large sauce pan, and heat to melt the butter.
Remove from heat, and whisk in the cocoa and sugar.
In a bowl, whisk the sour cream and the eggs and vanilla, then add to the beer mixture.
Sift together the flour and baking soda, and fold in the batter.
Pour into muffin molds and bake or 25 minutes, or until inserted cake tester comes out clean. Let stand 10 minutes, remove from muffin tin, and cool completely on a rack.
Allow butter to reach near room temperature then cream at high speed with an electric mixer.
Add in milk and 1 cup of the powdered sugar to create a wet and thick mixture.
Add in the remaining liquids and mix until frosting is spreadable.
*** Vary the amount of alcohol to taste.***
***More or less powdered sugar may be required to reach desired consistency.***